Life Songs | Heart of Gold
Welcome to my second post for Life Songs. I am thrilled to be a part of a life stories project with eleven other talented photographers! In this series, we will be documenting our lives with a different theme song each month. The images in the posts will be taken from a less traditional approach, showcasing "real life" in our own ways. This month's inspiration is "Heart of Gold" by Neil Young. It might be worth finding it and having a listen as you browse our blog circle. See the link to the next photographer in the circle at the end of this post.

I had grand visions for this month's post, but weather and life seemed to keep throwing curve balls. Then the other day something amazing happened. I had this vision for a beautiful shoot with my 3 year old son and my 2 year old daughter. (I know... Don't laugh.)
It involved fancy clothes, lovely light and a large bouquet of roses, but instead I went out to find rainbow weather (strong sunshine and heavy rain dancing the tango across the sky), my 2 year old had no interest in doing pictures, my 3 year old wanted to wear something altogether different, including a backwards cap that made his ears stick out. I promised we could feed the ducks and loaded my pockets with candy. I knew the shoot was a bust before we walked out the door.
I half-heartedly snapped a couple of shots amidst rainsdrops and sunbursts. I knew they were a mess. My daughter clung to my leg and slipped in the mud. My son swung the roses like a baseball bat and laughed at my attempts to salvage one perfect photo. I gave up, loaded everyone into the car, handed out the candy payments and headed home. Later that night I dared to peek at the photos I had snapped. They were a technical nightmare, and I deleted them all.
Then I stopped, opened the recycle bin icon on my computer and retrieved the files. I realized I was throwing away a moment of real life because it didn't fit my vision. I was waiting for perfection and almost missed the magnificent beauty of IMPERFECTION! And I knew I had my life song. Amidst it all, I have my heart of gold in these precious children and our life together.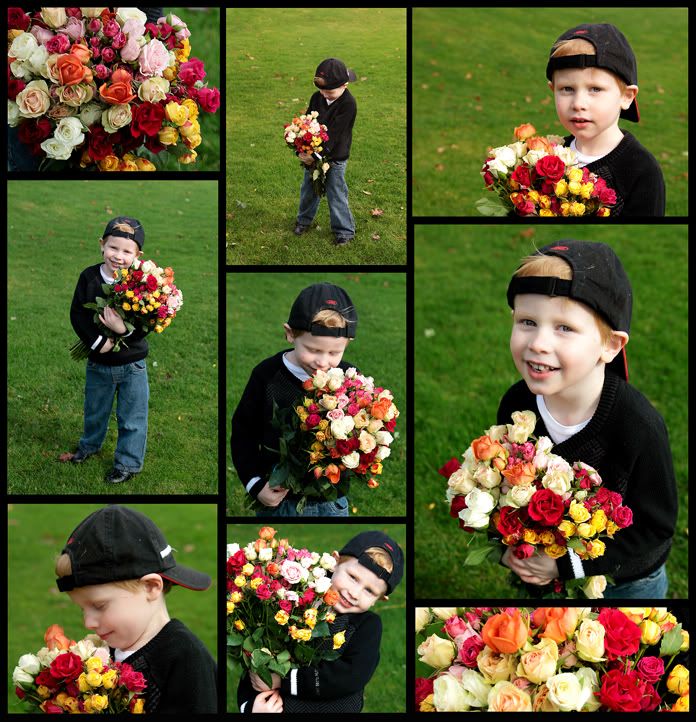 Thank you for viewing my Life Stories post, and please visit Erica Cummins, a fabulous Australian photographer at http://ericacummins.com.au/mine/life-songs-february/ to see her take on this month's song!

I LOVE blog comments, so let me know that you stopped by!